Tourist Service
>
Český Krumlov: A Guide for Handicapped and Other Visitors
: A Guide for Handicapped and Other Visitors

---
---
The Castle Gardens Route
The Castle Gardens Route (Area:150 x 750 m, 4 terraces) Terrace 1 Often referred to as Štěpnice. It is situated opposite the Renaissance style house underneath the connecting corridor (Barrier-free access, sand pathways). Terrace 2 Above this terrace, there is the Summer Riding Arena, which is situated opposite the Winter Riding Hall (App. 20 stone steps, sand pathways). It is the point where the connecting corridor leading from the Castle enters the Castle Gardens. Terrace 3 – the Lower Parterre A platform originally designed for horses - a steep slope, hard concrete with pebbles, an uneven surface, people in wheelchairs need assistance, sand pathways. This section of the gardens is done in a French style therefore it is called the French Castle Garden. Terrace 4 - the Upper Garden In the middle of the connecting terrace there is a jewel of the garden – the Cascade Fountain, which has staircases on sides (+8+11 steps, balustrade app. 1m high). On both sides of the garden wall there are two platforms, which were originally used for riding horses – a steep slope, hard concrete with pebbles, an uneven surface, people in wheelchairs need assistance, sand pathways. By the north platform - a Gate leading to a car park (-3 steps) The Cascade Fountain in the Castle Gardens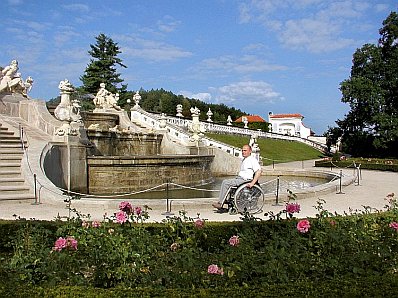 The Upper Garden (Area: 150 x 500 m) The main garden entrance can be approached from the Důlní Street (Barrier-free access, sand pathways). Opposite the entrance, in the proximity of 150 m there is Markéta Tavern (Steps downstairs, a standard toilet, accessible through -3 steps, door width - 0.60 m).
Further on, after the Cascade Fountain look for Bellaria, a summer house, in which close proximity there is the Revolving Auditorium Theatre (2 seats for disabled, but rear wheels of a wheelchair reach back row space – this limits visitors and a person in a wheelchair also spoils their vision, 1 adult admission ticket allows for 1 person in a wheelchair plus one person accompanying, necessary to book in advance at the Booking Office).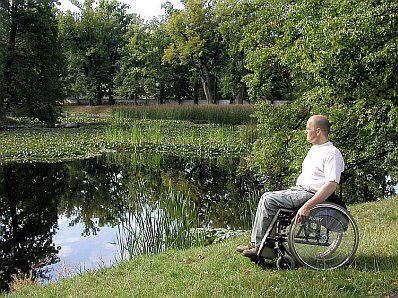 If you continue further towards the back of the gardens, on the left there is the Music Summer House (+10 steps) and Lake (Area: 1 ha, a little island in the centre), which closes the garden area. There are sand pathways in a good state along all four sides except the connecting pathways between single levels.
You may also decide to follow the outside walls of the gardens using an asphalt road, which is straight and flat apart from a long and steep parking lot near Markéta Tavern. By the Riding Hall, a way gets even again, but mind - it is on the same level as the Garden Terrace 1.
---
---
Content of Český Krumlov: A Guide for Handicapped and Other Visitors :
Further information :